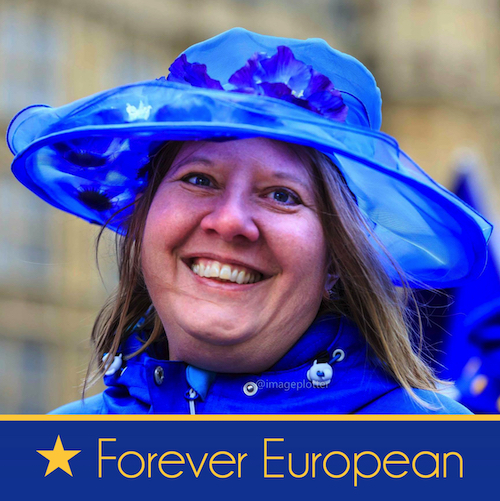 When did you first attend the SODEM protest outside Parliament and why did you come?
November 2017, in response to a call for placards. I brought the two I'd made for the march in March 2017 ("We want our country back", "We want our future back", blue and yellow). I was going through the stressful process of naturalisation after 20+ years in the U.K.
Roughly how old are you?
49
How frequently did you come and when was the last time you attended?
About 20 times. Last time was in the spring of 2019.
How far from Westminster do you live and what was your travelling time?
About 1.5 hours by bus & train.
What's your favourite memory?
Singing We Ain't Gonna Brexit at the top of our lungs! Being serenaded by Santa. Riding around on the Stop Brexit bus – "No lies on THIS red bus!!!"   Shouting at Jacob Rees-Mogg on the BBC and the presenter pointing down at us saying "They want a people's vote". And many more! 
Tell me your story
I was invited to do a PhD in Cambridge in 1996. I'm Swedish, my husband is Irish, we came here as EU citizens, not "immigrants". Our children were born here. Always thought of this as our "forever home". That changed instantly in 2016. We'll move elsewhere as soon as circumstances allow, probably in about 5 years' time.
---
Your donation helps to keep this website going. Thank you.