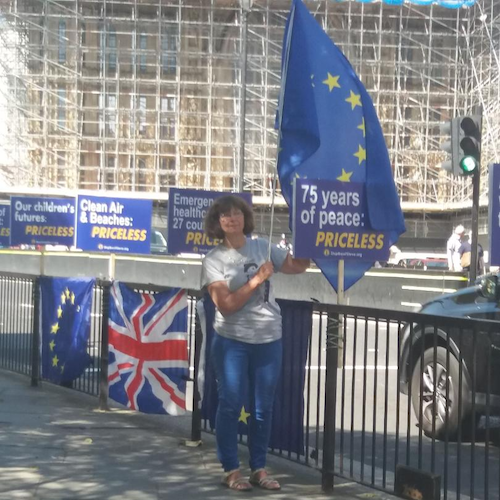 When did you first attend the SODEM protest outside Parliament and why did you come?
I joined Steven Bray on his very first day protesting outside Parliament. Brexit to me was just so wrong and I wanted to do everything I could to stop it. I wanted the world to see that not all British people wished to leave the EU.
Roughly how old are you?
I am 64 years old.
How frequently did you come and when was the last time you attended?
I went roughly once a week. I think that the last time I attended was in December 2019.
How far from Westminster do you live and what was your travelling time?
I live in East London, near the Central line. The journey took about 50 minutes.
What's your favourite memory?
My favourite memory was of a dinosaur having a conversation with a policeman as if it was the most natural thing in the world! However, I have many wonderful memories including Danny arriving laden with bags of food to share; cycling with EU flags flying from my bike, with other members, around Trafalgar Square; "Cake not Hate" day; singing the wonderful anti-Brexit songs with Yorkshire and Cornwall pro EU groups; travelling round London on the anti-Brexit red bus; talking to tourists who would politely tell me that their country thought Brexit was bonkers, and of course all the wonderful, friendly people I met who felt exactly the same as me. In my memory the sun was always shining although I know it was not!
Tell me your story
I was a primary school teacher in London for 38 years. I have always taught pupils from around the world and in later years many children came from the EU. The parents came here to cure our sick, look after our old people, work with our scientists, work hard and contribute to our society. 
I loved the ease with which I could travel to mainland Europe and people from Britain could make the most of opportunities to live and work there. I am so lucky to have been part of generation that has lived in peace with Europe.
To leave the EU just seemed utter madness. I retired in May 2016 so was able to spend my time campaigning to Remain. I felt it was so wrong, so bad for Britain, when the vote was narrowly in favour to leave the EU. Those wonderful parents and children had been left in limbo! I had to keep fighting! I discovered that many felt exactly the same as me and I was soon joining small protest groups that were springing up everywhere. These groups got larger and larger and more active.
Although ultimately we did not win that fight, I am still glad that I tried my best to do what I believed was right. Knowing that there are so many wonderful people out there gives me hope and I am proud to have been part of the movement.
---
Your donation helps to keep this website going. Thank you.