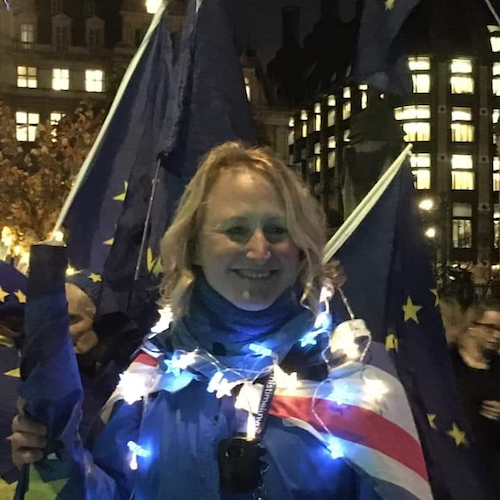 When did you first attend the SODEM protest outside Parliament and why did you come?
December 2017 for a protest organised by Angela Ramsell.
Roughly how old are you?
53
How frequently did you come and when was the last time you attended?
I became a full time member of the team. Last time was Dec 2019
How far from Westminster do you live and what was your travelling time?
I live in Spain. I travelled several times from Spain to be there (all day). Also from North Wales 3 hours. Then in 2019 I was based at SODEM HQ in Westminster.
What's your favourite memory?
So so many.
Tell me your story
I´ve lived in Spain for 25 years so I don´t have a vote any longer in the UK. I started campaigning with BremainInSpain and attended SODEM more and more often until I didn't go home and stayed at SODEM for pretty much the whole of 2019. Not having a vote in the Referendum that changes everything motivated me to find a voice at SODEM with Steve Bray.
---
Your donation helps to keep this website going. Thank you.