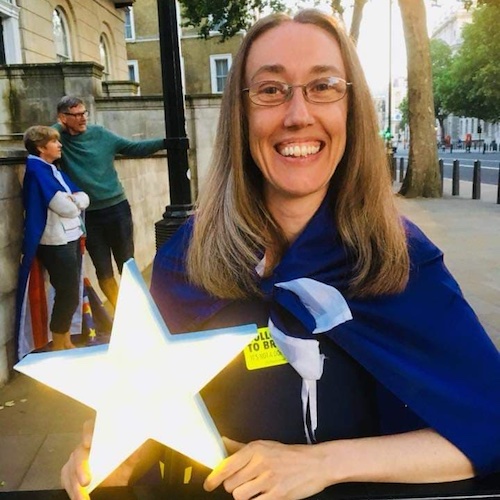 When did you first attend the SODEM protest outside Parliament and why did you come?
I first attended SODEM when combining with the No.10 Vigil which moved along from Downing Street, probably in 2017.
Roughly how old are you?
I'm 43.
How frequently did you come and when was the last time you attended?
I attended SODEM whenever I could get there, usually at least once a week and more if there were events going on and certain votes taking place in Parliament. I mainly attended after work, so was there in the late afternoon/evenings.
The last time I attended was earlier this year to demonstrate against the Police and Crime Bill.
How far from Westminster do you live and what was your travelling time?
I live in Essex, but work in East London, so travel time after work is about half an hour. Coming from home, journey time is around 1-1/2 hours.
What's your favourite memory?
Probably, like many people, one of my favourite memories was the arrival of the Yorkshire crowd, with their incredible flags and singing voices. Their energy was brilliant and much appreciated, and even silenced the Brexit supporters for a little while! I also have many happy memories of spending time with the amazing lit up flags and signs with the evening crew who also have fantastic energy, often staying much later into the night than I was able to! <3
Tell me your story

I was as stunned as most other people at the referendum result and immediately was scared at what it meant for the country.  I attended the No.1o Vigil fairly soon after the referendum as I felt the need to be doing more than just emailing my MP.  I found it really rewarding chatting to members of the public and getting a range of views and feelings directly.  The Vigil moved along to join the SODEM protests, since it was a more visible spot and usually a bit busier.  I feel so grateful to Steve and everyone who has kept up the direct action and been so inspiring to so many.  It has reinforced my view that it is vital to stay visible (and vocal!).  The many quiet "Thank you for being here" comments from passers-by is enough for me to know that taking action, even if it just gives one person some hope and joy, is totally worth it.  🙂
---
Your donation helps to keep this website going. Thank you.