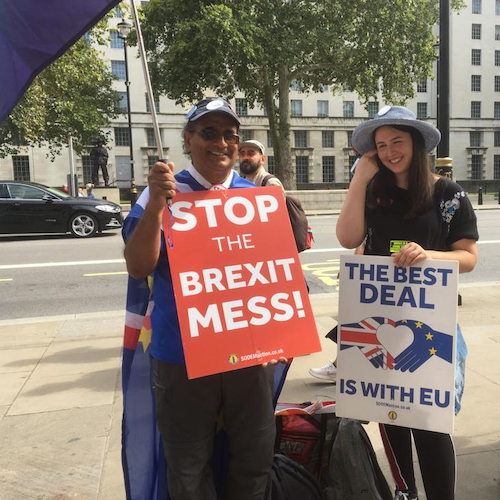 When did you first attend the SODEM protest outside Parliament and why did you come?
I attended with my grandparents in August of 2019. I protested as my grandparents were prominent members of SODEM, and I wanted to support them in their fight and contribute to the cause.
Roughly how old are you?
18
How frequently did you come and when was the last time you attended?
I attended on one occasion, however I received regular updates from my grandparents who attended daily.
How far from Westminster do you live and what was your travelling time?
I live in Sutton. It took me about an hour or so to get there.
What's your favourite memory?
My favourite memory was the camaraderie and the sense of familiarity with those whom I had never met before. Everyone was incredibly friendly and it was amazing to be a part of something so special and immensely important.
Tell me your story
My story… so at the time I was completing my A levels. I wasn't able to vote and felt that my voice and the voices of my peers was being lost. I studied A Level history, as history has always been something very important to me, and I felt that the EU only made us stronger. My outrage at the result of the referendum and my pure admiration for my grandparents and everything they stood for led me to join the fight on the 28th of August, 2019. It was only due to the fact I was working full time that I was unable to attend more often. If I could have … I would have.
I am in awe of those who regularly went to the protest and while they did not reach the outcome they may have desired, their fight did not go unnoticed.
---
Your donation helps to keep this website going. Thank you.