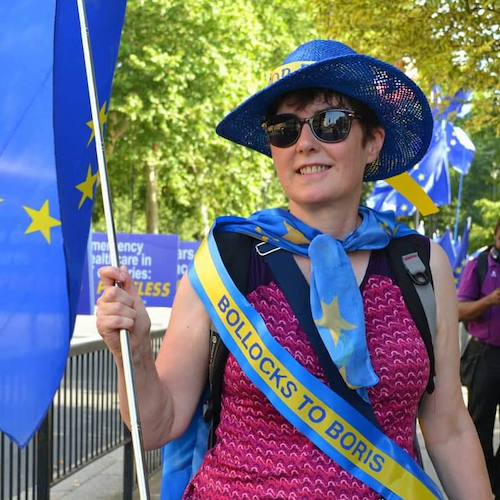 When did you first attend the SODEM protest outside Parliament and why did you come?
End of 2017.
Roughly how old are you?
57
How frequently did you come and when was the last time you attended?
Once or twice per week depending on events. Sometimes more if a bill was being discussed or they were voting on something important. The last time I attended was on the 10th December, 2019.
How far from Westminster do you live and what was your travelling time?
About 10 miles away. Just over an hour away by public transport.
What's your favourite memory?
Many lovely memories but I loved 10th December, 2018 — the day Dame Sarah Connolly and many musicians and singers came. There were so many people you could hardly walk, the atmosphere that day was incredible. It felt like we were so close…
Tell me your story
I couldn't vote in the referendum and I felt very wronged, because after 26 years living and working in the UK, I loved this country as if it was mine.
The result was devastating personally as I knew my rights as an EU citizen and my emigration status could change, as in fact they did. Also, I knew it was a big mistake, it was going to affect the economy, jobs, imports and exports form the EU, etc. It had been clearly motivated by xenophobia and racism, so it felt very personal.
When Theresa May announced her red lines, it was very clear that the direction of travel was towards a hard Brexit and that would be catastrophic, so I decided to do something about it.
First, I joined the N°10 Vigil and then I found out about SODEM. I thought that day-time visibility was important and I joined when I could.
---
Your donation helps to keep this website going. Thank you.