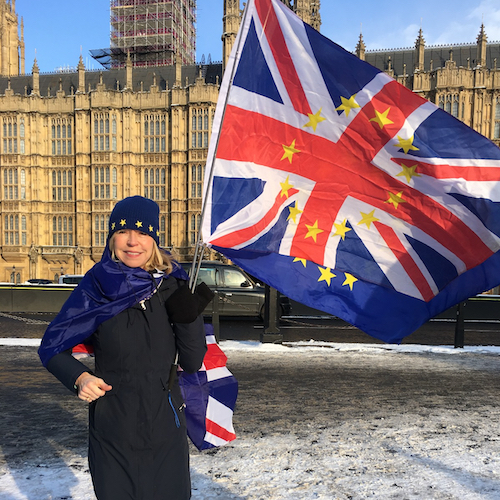 When did you first attend the SODEM protest outside Parliament and why did you come?
October 2017. Came because I was so frustrated with what was happening with Brexit and I realised I had to be somewhere other than behind my keyboard.
Roughly how old are you?
50's
How frequently did you come and when was the last time you attended?
Attended one to two times a week until January 2020.
How far from Westminster do you live and what was your travelling time?
Close. Half an hour.
What's your favourite memory?
Marching on Downing Street and stopping all the traffic. Hugging David Lammy. Seeing all the LibDem Peers come out to talk to us and feeling an overwhelming unity of cause fired by passion and desire for the best for our country.
Tell me your story
I became involved in SODEM by chance. Turned up there in the early days and realised it was a powerful force but needed to be supported to keep it going. Ended up being one of the main organisers of the protest and saw it grow to one of the most successful grass roots protests of modern time. I'm proud we gave a voice to the groundswell of anger in the UK at the Brexit process and that we have a place in political history.
---
Your donation helps to keep this website going. Thank you.