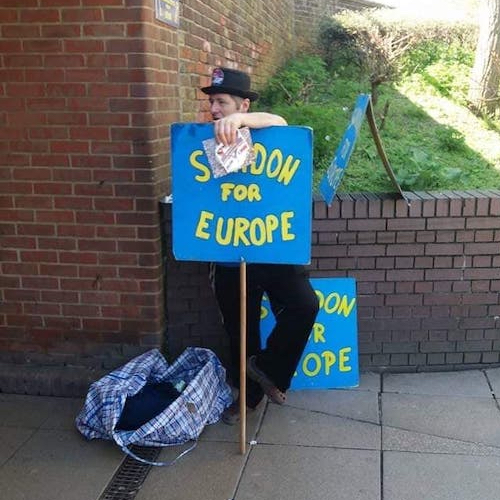 When did you first attend the SODEM protest outside Parliament and why did you come?
Monday, 11 September 2017.
Roughly how old are you?
62 now.
How frequently did you come and when was the last time you attended?
1st year: every Monday
2nd year: every other Monday.
Also, later on certain Tuesday events.
How far from Westminster do you live and what was your travelling time?
Wroughton near Swindon [Wiltshire].
What's your favourite memory?
Drumming for 10 hours in rain + sleet, when an MP stood outside parliament and saluted us all for 10 minutes.
Tell me your story
I have a German wife and a daughter. We named our daughter after Lilly Marlene because all my wife's great uncles told her that all troops of all nations on both sides in ww2 in Europe loved the song. My wife used to sing it for me in German and English. We ARE the EU.
I started Swindon for Europe 3 years ago and still run it. I'm still attending SODEM. I HATE Brexit and this government with all my heart. I will never accept it and will fight it for ever. Whilst we're out of the EU we need to fight to protect the union from the this stupid country, and to protect our EU citizens and ALL migrants/minorities from Right-wing white supremacist nationalism. In my mind, Brexit is a loathsome dragon and Steve Bray embodies the spirit of St George, protecting England from its own darkest old natures.
---
Your donation helps to keep this website going. Thank you.