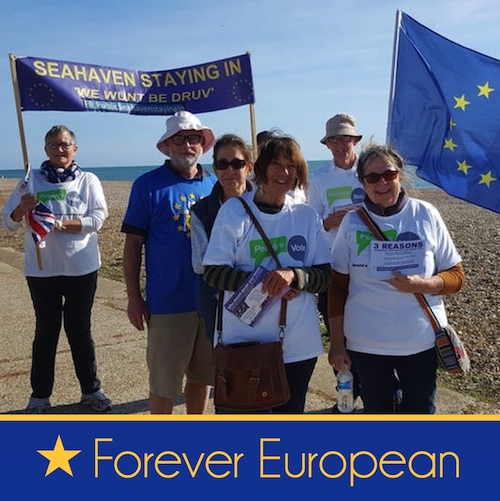 When did you first attend the SODEM protest outside Parliament and why did you come?
2017
Roughly how old are you?
64
How frequently did you come and when was the last time you attended?
Monthly until Spring 2019.
How far from Westminster do you live and what was your travelling time?
60 miles, 2hrs 15mins.
What's your favourite memory?
The flags.
Tell me your story
Chair of Seahaven Staying In.
From the Facebook Page:
Seahaven Staying In covers the towns of Seaford, Newhaven and Peacehaven [in East Sussex]. We represent those who voted to remain within the EU in the local area, those unable to vote who wish to remain in the EU, Single Market and Customs Union, and those who have since changed their mind and wish to stay in the EU, Single Market and Customs Union. We are very concerned about the impact Brexit will have locally, nationally and internationally.

We continue to campaign to remain in the EU and recognise the many benefits of doing so. We regularly meet socially and actively campaign locally and raise awareness of the benefits of remaining in the EU, Single Market and Customs Union. If you see us come and say hello

Members have marched in London, Brighton and Brussels.

We have co-hosted the book promotion of ' In Limbo' locally.

We have attended a Scientists4EU event in Lewes 

We are affiliated with Britain for Europe and The 48%.

Our motto is that of Sussex,' We Wunt be Druv!'
---
Your donation helps to keep this website going. Thank you.