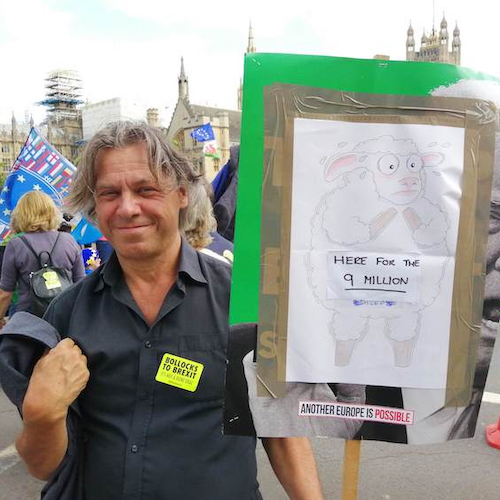 When did you first attend the SODEM protest outside Parliament and why did you come?
4th September 2019. Boris Johnson proroguing Parliament. Responding to a call from Yorkshire for Europe.
Roughly how old are you?
60
How frequently did you come and when was the last time you attended?
Every two weeks since lockdown eased. Last Wednesday for Farmers Protest.
How far from Westminster do you live and what was your travelling time?
140 miles. 3.5 hours.
What's your favourite memory?
The Yorkshire for EU brass band playing the Brexit version of On Ilkley Moor Bat'at past Parliament, round Parliament Square, up Whitehall, and outside No. 10. Then hearing former tory MP Phillip Lee cross the house from a mobile, from the tranquility of the Old Shades pub opposite.
Tell me your story
I am European. I grew up as Britain embraced Europe. When I heard that the Tories were having a referendum I didn't dream that a majority would vote to leave Europe. I was incensed when the vote came through, and greatly troubled when Jeremy Corbyn called for the immediate triggering of clause 50. I've been angry ever since.
I do think a coup took place on 24th June 2016 and the mainstream remain group were pussyfooting around with people who did not deserve respect. I kept away from protesting because I was concentrating on a new life and new relationship. However as the extent to which the coup was affecting the country became more and more apparent, I decided to join the June 2018 national demonstration.
As I got more and more sucked into the politics, the relationship became under strain. I felt and still feel that something very wrong was happening. We attended the memorable March 2019 demonstration together, but that was probably a last time. I became a local parish Councillor soon afterwards and helped the greens with their June 2019 EU election campaign. My now ex-partner was by then for BINO and we lost an important point of contact.
And I joined Sodem in the September… As 2019 progressed we came to the installation of Boris Johnson as PM, and prorogration.
---
Your donation helps to keep this website going. Thank you.