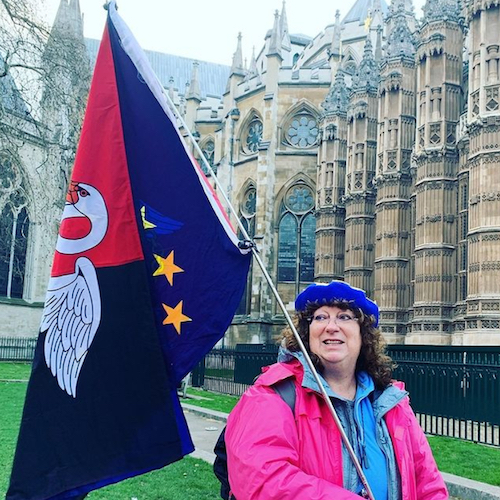 When did you first attend the SODEM protest outside Parliament and why did you come?
I think it was summer 2018 that I started to come regularly as I was running People's' Vote South Bucks and meeting and networking more.
Roughly how old are you?
61
How frequently did you come and when was the last time you attended?
It varied from twice a week to every two weeks depending on what was happening and what else I had on.
How far from Westminster do you live and what was your travelling time?
22 miles about 80 minutes walk to station, train to Marylebone, tube to Charing X and walk down Whitehall
What's your favourite memory?
I loved it whenever Yorkshire for Europe arrived walking down the road with their flags flying and them singing. I loved it when we were allowed to have music before they banned it and amplifiers, singing Madalena's song. Pies not Lies day was a good memory. Being caught in the background of the photo of Steve and a Brexiter nose to nose and seeing it on the BBC news website and in newspapers was memorable. Carol Hedges telling me about the cafe in the Supreme Court which became my go to place for warming up and adding extra layers of clothing in winter. There are so many good memories, meeting and spending time with lovely like minded people is the best though.
Tell me your story
I campaigned with Stronger In, but it was fairly pathetic. I was devastated by the result but hoped we would stay close like Norway. When it became clear we were going for a hard Brexit I joined every organisation I could find that was pro Europe. When the groups came together under the PV umbrella I got a call from Open Britain asking me to form a group in the constituency, Beaconsfield, to try to persuade Dominic Grieve to join us. We held street stalls with Brexitometers around the constituency for a couple of months then I had an appointment with DG and showed him photos of the Brexitometers. He had virtually come to the conclusion himself that PV was the most sensible course of action, asked to keep the printouts to show colleagues and agreed to join us on our next street stall. And the rest is history although DG continued to join us whenever he could, bring variously praised or called a traitor by his constituents and dealing with it all politely. I usually travelled to Westminster on my own and stayed all day. It was great to see the regulars and there would always be someone interesting to talk to even if no one from local groups near me were there. Being widowed and my daughters having left home my time was my own so I could go to SODEM whenever I had a free day.
---
Your donation helps to keep this website going. Thank you.