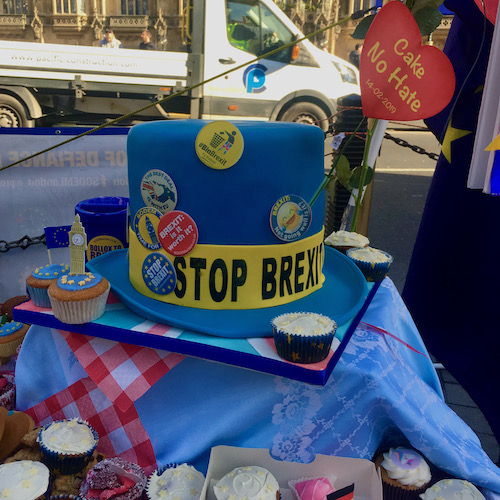 When did you first attend the SODEM protest outside Parliament and why did you come?
Around midday on Thursday 29th March, 2018.
Roughly how old are you?
40-60
How frequently did you come and when was the last time you attended?
At least once a week, but a few times a week from late 2018 and most of 2019.
How far from Westminster do you live and what was your travelling time?
30 – 40 minutes maximum, if tubes were running normally.
What's your favourite memory?
European Movement Yorkshire and some other branches, Classic musicians etc joined SODEM and we did lots of singing. Also, SODEM team organised many creative events like "Cake not Hate" and some PRO-EU MPs stopped by for us. I met a group of night shift people on the day of voting. Just being at SODEM was my great memory.
Tell me your story
I arrived in the UK in Nov 1992 when the Maastricht Treaty was signed, and I have witnessed a huge positive change happen to this country. I came from outside the EU, so I knew the benefits of being in the EU single market and the customs union, as all the goods imported from the EU into my birth country were so expensive. The company I was working for had to pay for a lawyer to go through so much red tape when they sponsored me to get permanent residency. So, I knew the British and all European people had a great gift from the EU called "freedom of movement."
During the referendum campaign, one of my Malaysian friends said she was not interested in British nor European politics, but she had a right to vote for the EU referendum, so she was going to vote to leave the EU. One British friend had spent several happy years in Spain but as soon as she returned to the UK she thought there were too many immigrants in England, so she wanted to vote to leave the EU. At the same time, I found out my European friends who were even married to Brits didn't have a right to vote. These things made my blood boil, so I was very disappointed with the referendum result, but I met a lovely lady at the first big demonstration against Brexit in 2017 and she took me to SODEM for the first time.
SODEM gave me a place to release my anger and to meet like-minded people. I met so many amazing people there!!! 
---
Your donation helps to keep this website going. Thank you.