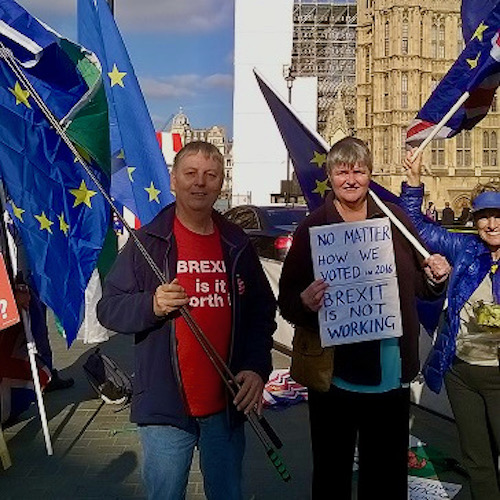 When did you first attend the SODEM protest outside Parliament and why did you come?
June 2018 – for a crucial vote in parliament.
Roughly how old are you?
62
How frequently did you come and when was the last time you attended?
3 times, last was December 2018.
How far from Westminster do you live and what was your travelling time?
200 miles, 3.5 hours by car and train.
What's your favourite memory?
Taking Glen, my border collie – a big adventure for a country lad and you don't see many sheepdogs on the underground!
Tell me your story
Where to start?  Got involved in the anti-Brexit movement after a chat with Angela Ramsell who lives in my village.  Went on the April 2017 march and other marches since.  Founder member of European Movement Oswestry and North Shropshire, on North Wales for Europe steering group, founder member and chair of Montgomeryshire for Europe, and helped set up Wrexham for Europe.  Active member of EUFM!  Taking a bit of a break from campaigning currently while I sort out the rest of my life.
---
Your donation helps to keep this website going. Thank you.