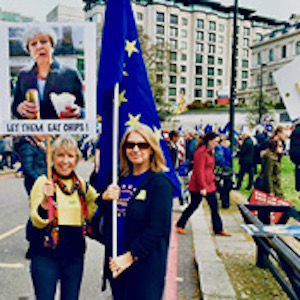 When did you first attend the SODEM protest outside Parliament and why did you come?
October 2018. I came because Steve put a call out to our Cardiff For Europe and Wales for Europe group members to join the protest and boost numbers. I also met a fellow anti-Brexit campaigner who I'd befriended on Social Media – Claire Hill for the first time there, and we stayed for the day and evening before I drove back to Wales.
Roughly how old are you?
57
How frequently did you come and when was the last time you attended?
Only on a couple of occasions. Activism / campaigning has been mostly via attendance of marches, working and organising events with local activist groups face to face and via social media.
How far from Westminster do you live and what was your travelling time?
Dinas Powys – around 200 miles. 3-4 hours travel by car or train.
What's your favourite memory?
Photos of Claire and I with Steve. Cake and music, as well as lots of singing and flag waving. Very punk! On telly it was Steve's extra-long placard pole that defied the Beeb's attempts at censorship.
Tell me your story
I was devastated on the morning of the 24th June 2016 and have been determined to fight the right-wing act of idiocy, scapegoating and self-harm ever since. It took until early 2017 to meet up with like-minded campaigners, join groups and attend the marches, but I can honestly say that I feel so privileged to have met such wonderful, intelligent, inspirational people who will one day be proven to have been on the right side of history. They have become my friends and family and I believe that if we continue to work together, we can and will change this G's for the better and hold the Brexit architects to account.   I currently work for an exam board as an education advisor and used to be an art teacher. 
---
Your donation helps to keep this website going. Thank you.