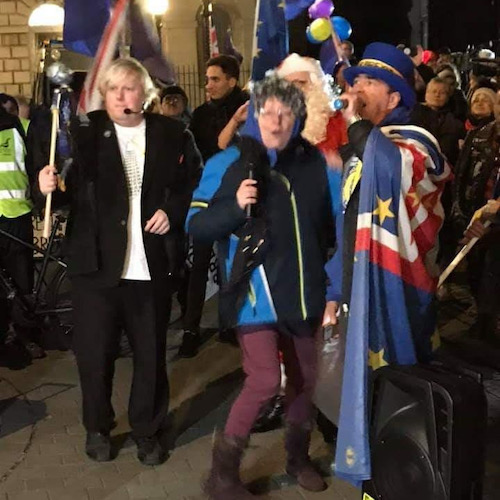 When did you first attend the SODEM protest outside Parliament and why did you come?
Not sure when we started coming to be honest. We came to stop Brexit. We also came because Steve Bray asked us to, as we were an active part of the N°10 Vigil as Granny and Jo Remain. He still calls me Granny to this day.
Roughly how old are you?
I am in my early 60s. My daughter is 40.
How frequently did you come and when was the last time you attended?
We came whenever we could, given the constraints of being teachers. We last attended early in 2019 just before we 'Brexiled' to Ireland.
How far from Westminster do you live and what was your travelling time?
81 miles. Roughly 2 hours each way by train and tube.
What's your favourite memory?
Peering into Santa's empty sack as Granny looking for 'Brexit benefits' and shouting "STOP BREXIT" with Steve at the end of the day. Also meeting so many other Remainers and being shown appreciation by various MPs and Lords. (Sorry, that's more than 1 favourite memory!)
Tell me your story
Woke up on the 24thJune 2016 feeling bereft. Felt impotent until the 1st big march. Joined the N°10 Vigil as performers, writing and performing satirical versions of popular songs, all over the UK and Westminster in particular, including the Marches, open top busses round London and boat trips on the River Thames. I also performed on the Bollocks to BREXIT bus tour Kent and Brussels leg.
---
Your donation helps to keep this website going. Thank you.