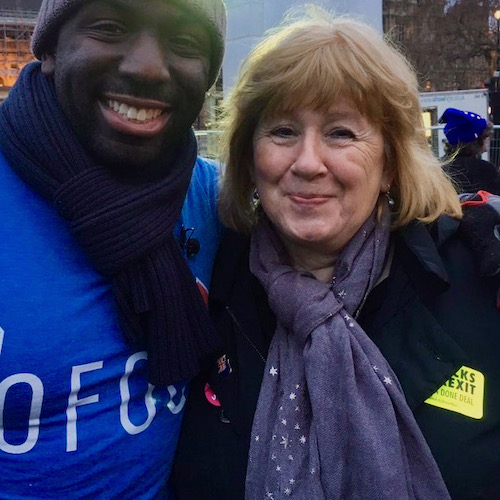 When did you first attend the SODEM protest outside Parliament and why did you come?
I can't remember, but I've been on every march since 2017 and loads of rallies outside Parliament. Also, one at Westminster Hall. I think my first time at SODEM was probably around late 2017, but I can't be precise.
Roughly how old are you?
66
How frequently did you come and when was the last time you attended?
I think I've probably been about 8 times.
How far from Westminster do you live and what was your travelling time?
2.00 – 2.30 hours
What's your favourite memory?
So many. We thought we could win the world. Every march was great. The rallies outside Parliament were great. Probably Westminster Hall was best for me…
Tell me your story
I was born from a Belgian mother from Antwerp who came over when she was 7, between the wars (1933?). Her mother was French (from Lille) and her father was Dutch (from Rotterdam). She didn't have an English passport until she was 30. My dad was half Irish; his mother was born in Dublin. I never felt very English because my cousins were either half Belgian (my maternal aunt) or Dutch. I spent every summer from 14/18 in Paris with my pen friend. I could speak pretty good French, but it's not so good now. In my gap year I lived in Franco's Spain (an education!) and Brussels.
I love Europe. I particularly love Belgium. We used to go very regularly as a family for weekends and holidays to France and Belgium.  I've taught English and Drama since I was 22 but in my mid-50's I came out of the Ed classroom to teach EAL in mainstream schools. I saw first-hand how families are being torn apart by Brexit. To be honest, I was pretty disgusted that only one of my colleagues from the English as an Additional Language Service bothered to go on any of the marches. I think I've always been political, but this nightmare has really upped my involvement.
---
Your donation helps to keep this website going. Thank you.