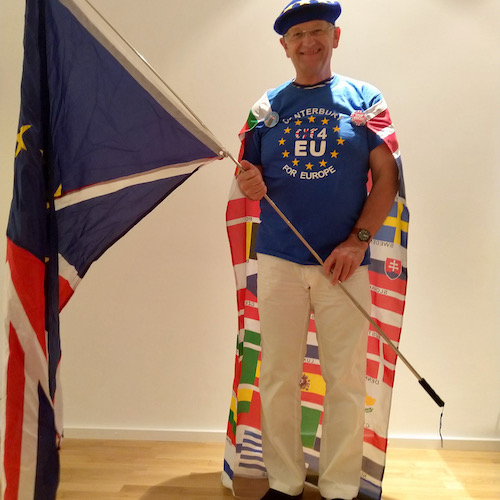 When did you first attend the SODEM protest outside Parliament and why did you come?
January 2019, to support SODEM, to add my voice with others on the day of important voting in Parliament.
Roughly how old are you?
60 – 65
How frequently did you come and when was the last time you attended?
3 times in May 2019.
How far from Westminster do you live and what was your travelling time?
Canterbury, about 110 kilometres, about 90 minutes each way.
What's your favourite memory?
Sharing the protest against Leavers present, chatting with Steve once or twice, chatting with other Remain people from other parts of the country.
Tell me your story
I joined Canterbury 4 Europe in August 2018, and rapidly became active in Canterbury street stalls as well as in the Bannering group on bridges over the A2, M2, M20 and M25. Heavily involved with leafleting for Marches. Attended all London marches from 20 October 2018 to October 2019. Joined C4E committee June 2019 and became membership secretary of East Kent European Movement in February 2020. 
---
Your donation helps to keep this website going. Thank you.