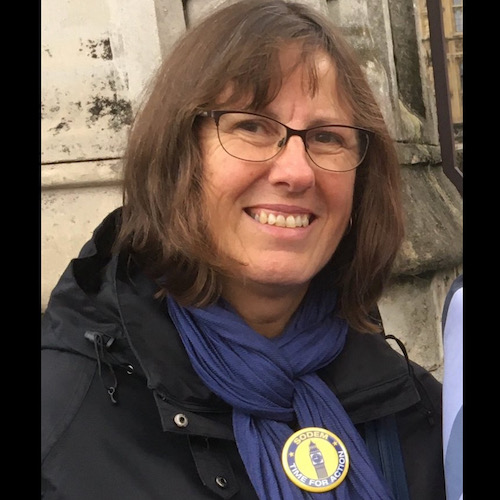 When did you first attend the SODEM protest outside Parliament and why did you come?
December 2018. It was a few days after my Granddaughter was born, and I felt I had to do more to try to give her a good future.
Roughly how old are you?
60
How frequently did you come and when was the last time you attended?
Started with an occasional day. Then it became weekly. Then I started finding Airbnb's and coming for 2 days a week. Last was before Christmas 2019. Dad was ill, then died in January 2020, followed by lockdown.
How far from Westminster do you live and what was your travelling time?
Bristol. About 3 hours each way by Megabus.
What's your favourite memory?
So many!
Emerging from Westminster tube and always seeing Jim with his flag…
The welcomes and hugs…
The day the flag had fallen off the top of Parliament…
Going into the Park with Steve and Ian and kneeling in a flower bed trying to take an optical illusion photo of Steve, to make it look like his EU flag was flying from the tower.
Tell me your story
The story of a typical day: coming to SODEM became a bit of an addiction. I'd set off at 5.30, bus into Bristol, Megabus to London. I had a special playlist I called Uprising, based on the songs we played outside the Cabinet Office during Whitehall Watch. Tube to Westminster, seeing Jim, always quietly resolute.  Meet everyone who had become friends, hugs, admire new placards. Hang over barriers. Try to obscure UKIP and Brexit flags from the TV cameras. Shout during broadcasts. Loo and tea breaks in Crush, often with lovely people I'd never met before.  Selling merchandise with Sue. 6pm shout. Drink in St Stevens Tavern, then off to find my way to an Airbnb in unknown parts of London.   Next day, back to SODEM so early, Lynne was often the only person there.  
---
Your donation helps to keep this website going. Thank you.