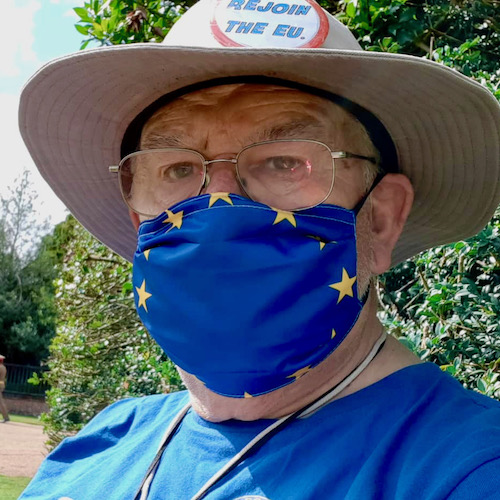 When did you first attend the SODEM protest outside Parliament and why did you come?
It was about May 2018. I felt that the referendum result was a monumental error and wanted to do anything that I could to prevent Brexit from happening. I had been ill and was still convalescing otherwise I would have come earlier. I did go on some more local (to me) events in the previous autumn. I came to Westminster because I had seen Steve Bray on TV and felt that he deserved moral support.
Roughly how old are you?
I am 77.
How frequently did you come and when was the last time you attended?
I came roughly once in every fortnight, sometimes more often. That is not counting specific events like the big marches.
How far from Westminster do you live and what was your travelling time?
I live about 75 miles away as the crow flies. The round trip by car/mainline train/tube takes about 3 hours.
What's your favourite memory?
Probably the big marches.
Tell me your story
I am a retired IT professional who has worked for short periods all over Europe, and also some longer postings to the Middle East and West Africa. I joined the SDP on my return from Nigeria and when the local SDP and Liberal parties merged in 1987/88 I was chair of the merger committee and also I was the very first constituency Chair of the newly formed Lib Dems. So I have always had an internationalist outlook. I retired (from work) in 1988. I play saxophone and also cornet (in Wantage Silver Band.) I am married with two grown up sons and we all live in Oxfordshire. 
---
Your donation helps to keep this website going. Thank you.