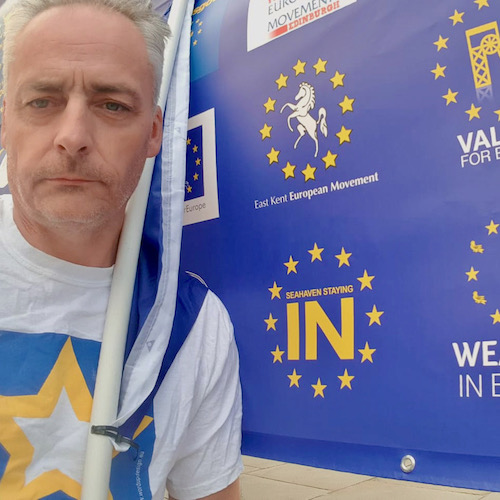 When did you first attend the SODEM protest outside Parliament and why did you come?
When? Probably 2017, but I'd need to check.
Why? A deep frustration with the lies being told and a desire to support Steve and all of the others who'd put their lives on hold to try to save our future.
Roughly how old are you?
60
How frequently did you come and when was the last time you attended?
Maybe once a month. 2019 before the general election.
How far from Westminster do you live and what was your travelling time?
40 miles. I would come if I was in London so didn't always travel there.
What's your favourite memory?
Maybe the boat trip when we regaled those on the parliamentary terrace, or perhaps the floats we pulled out, or maybe the cake. Difficult.
Tell me your story
I thought we'd always be in the EU.   I have friends across the continent and love the freedom to go as easily to Germany as to Newcastle.   Then the crooks and liars stole my future, and I became politically involved. I joined the LibDems and now I'm on two councils.   I marched for the first time, as did everyone.   I spent hours arguing on social media and I met some of the most amazing people – brave, committed, clever, passionate.   I'm still there fighting, even though I'm not sure where the battle is now. 
---
Your donation helps to keep this website going. Thank you.