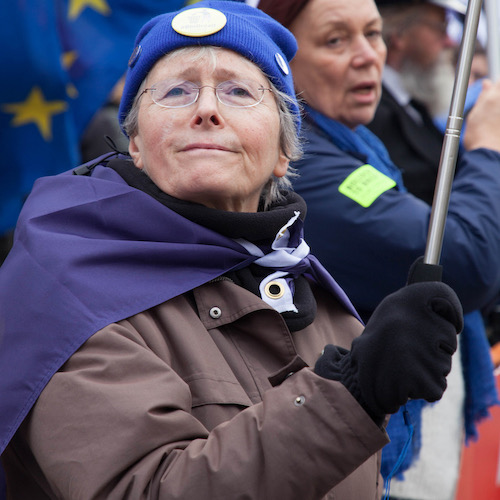 When did you first attend the SODEM protest outside Parliament and why did you come?
October 2018. I was out of the country before then, or would have been there sooner. I wanted to be there to be with like-minded people and to show that there were people who were very much against Brexit. I felt very strongly that Brexit would lead to more racism and xenophobia as well as limiting opportunities for people.
Roughly how old are you?
67
How frequently did you come and when was the last time you attended?
Most days parliament sat. Last time March 4th, after which I went into lockdown.
How far from Westminster do you live and what was your travelling time?
Walk, train, tube. Just over an hour if I timed the trains correctly.
What's your favourite memory?
So many… Greeting Lynn, Palky and Steve in the mornings. Many afternoons singing and shouting with Pauline and others. Storming College Green with 'Stop the Coup' protesters. Geoff, in Boris clown suit, outside Commons Gate offering Poledancing lessons. Mince pies from the LibDem Lords. Meeting so many lovely, caring, thinking people!
Tell me your story
…
---
Your donation helps to keep this website going. Thank you.