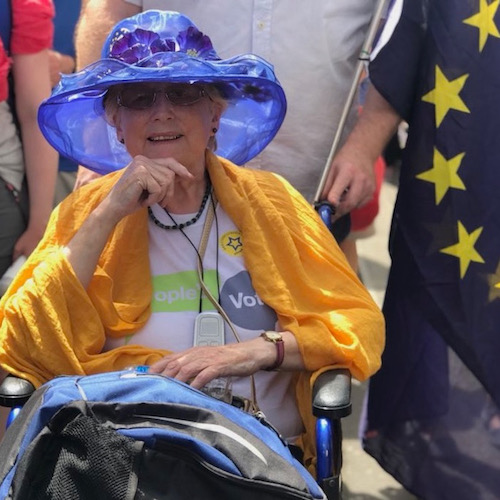 When did you first attend the SODEM protest outside Parliament and why did you come?
Sometime towards the end 2017, I think – can't really remember. Wanted to support the protest.
Roughly how old are you?
72
How frequently did you come and when was the last time you attended?
Irregularly – came about 8-10 times altogether, I suppose. I tended to combine coming to SODEM with trips to London for a meeting and visited less in 2018 as I was ill.
How far from Westminster do you live and what was your travelling time?
I live in Bournemouth, travelling two and half to three hours.
What's your favourite memory?
Lots combined with big demonstrations, but I think the first time I came, there were not many people and a German couple stopped to say 'we wondered where you were', meaning the people who objected to Brexit, of whom they'd not seen any on their trip – really brought home the importance of visibility. And of course, so many memories of wonderful Steve 'poster-bombing' TV interviews.
Tell me your story
I'm a retired health visitor-academic – hadn't much thought about the EU before the referendum, but was clear about how important it was to Remain from the start. I was in hospital on the day the results came out (I'd voted by post) and was in a state of shock for weeks. Such a relief to find like-minded people and be able to help start Dorset for Europe – I'm still active with them.
---
Your donation helps to keep this website going. Thank you.