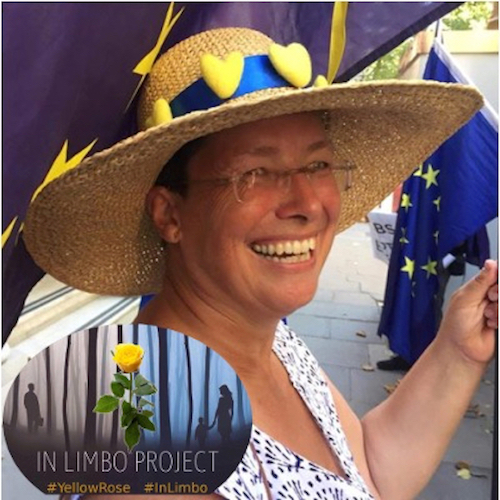 When did you first attend the SODEM protest outside Parliament and why did you come?
16th January 2018. Having marched I felt I needed to 'do something'. Having seen SODEM on social media I decided to travel in to Westminster. The first of many visits.
Roughly how old are you?
56 (exactly!)
How frequently did you come and when was the last time you attended?
Up to once per week especially autumn 2018 to summer 2019. January 2020 last time.
How far from Westminster do you live and what was your travelling time?
26 miles. 1 hour 40 mins
What's your favourite memory?
There are lots. Particular remember the Yorkshire posse arriving.
Tell me your story
I'm British born. My Dad was a French teacher, so I travelled in France from young age. Studied French and German. European MBA at EAP-European School of Management Paris, Oxford and Berlin (in 1989 stood on the Berlin Wall 10/11/89) – the school is now part of ESCP where Michel Barnier studied. Lifetime spent across the EU. Lived in Germany for 15 years. Married and started family there. I work with my husband in our international consultancy businesses, which is 100% EU-reliant. Brexit changes everything. Registered as living in Germany and company set up there. Having spent 20 years self-building in the UK faced with the possibility of having to leave our hard won home to move to Germany and even get German nationality.
---
Your donation helps to keep this website going. Thank you.